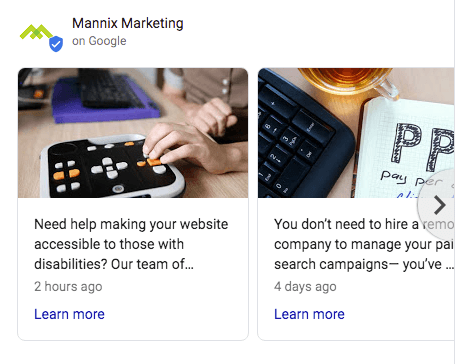 Are you posting on Google My Business? You may think it's a waste of time to be regularly updating your Google My Business profile with posts, but if you're not, you're missing out on valuable opportunities to improve your Local SEO.
Below, we've recapped what Google My Business posts exactly are and why they're so important.
What are Google My Business posts?
In 2017, Google released the Google My Business Posts feature to all verified GMB listings. This tool allows local businesses to regularly update their Google My Business profile (an otherwise static source of your company's contact information) with announcements, offers, events, products, and services. GMB posts last for 7 days (except event posts, which will stay active for the duration of your event).
Google My Business posts can be just text, but successful posts will utilize a photo or video component to draw attention. Similarly, you have the option to include a Call To Action—Book, Order Online, Buy, Learn More, Sign Up, or Call Now—in your post to either drive traffic to your website or call your business right from your post.
Here's two examples of Google My Business posts we've published on our own profiles: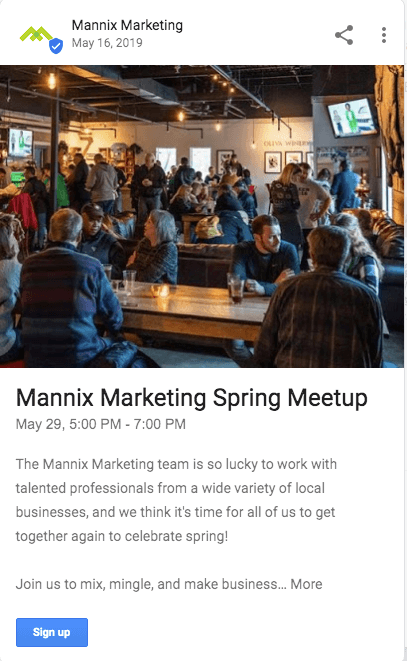 The first is an event post highlighting our Spring Meetup, a networking event for current and future clients with a direct link to purchase tickets.
The second is promoting a recent blog post with a direct link to the blog post.
It's easy to cast aside GMB posts as fluff posts, but they're not!
Your Google My Business Posts Matter— And Here's Why:
1. Google My Business Increases Findability in Local Search Results
GMB Posts are a large component of a business's Google My Business listing, which commands more and more attention in Google's algorithm for local search results. In fact, the 2018 Moz Local Search Ranking Report found that Google My Business "signals" are the most important ranking factor for local pack rankings.
The Local Pack is the Google SERP feature that's shaped like a map and displays places related to your query, namely a highly coveted 3-point list of businesses with their NAP data and link to their Google My Business listing.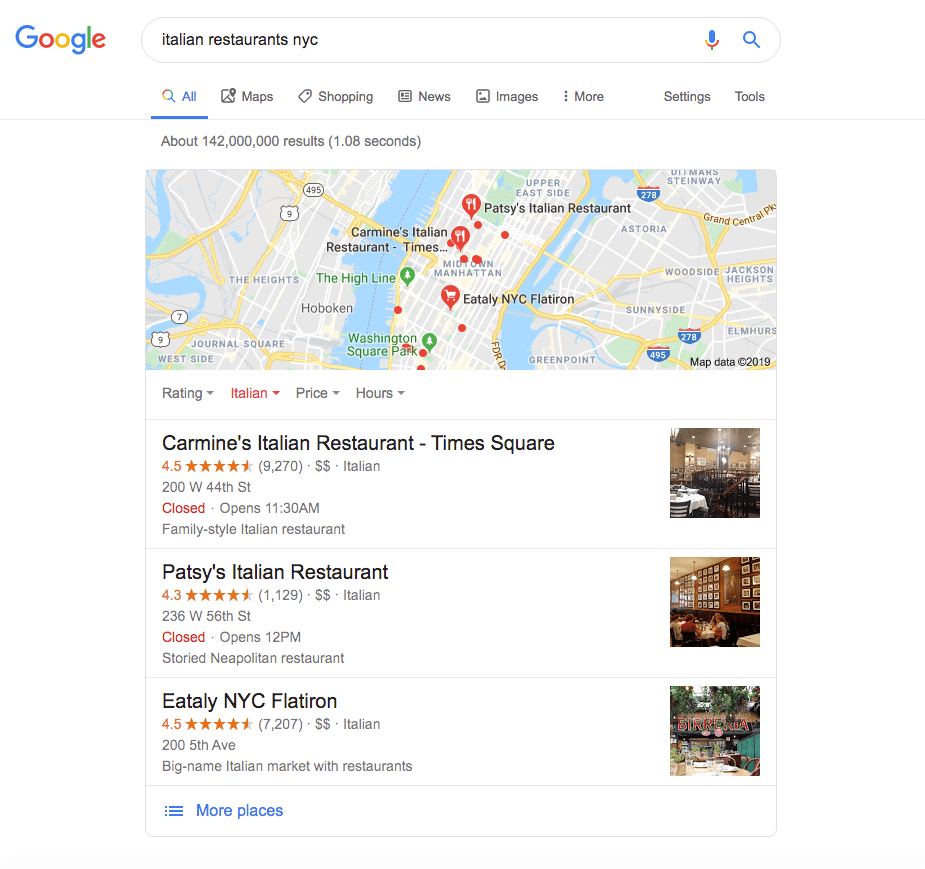 We've noticed our clients climb the ranks and begin ranking in the Local Pack just from posting, and we're not alone. Search Engine Land conducted a similar study to Moz and found business jumping multiple places in the Local Pack, less than a week after they started posting.
2. Google My Business Posts Create Rich Snippets in the Local Pack
Your Google My Business posts should not be a throw away post. If you're going to be active on the platform, make it count. When posting on Google My Business, it's important to use optimized, SEO-friendly text just like you were publishing on your own website.
Why? Google pulls from your Google My Business posts and uses them as rich snippets in the Local Pack.
Previously, the only rich snippet in the Local Pack you could receive is "Their website mentions…" which happens if customers searched for a keyword that is found frequently on your website.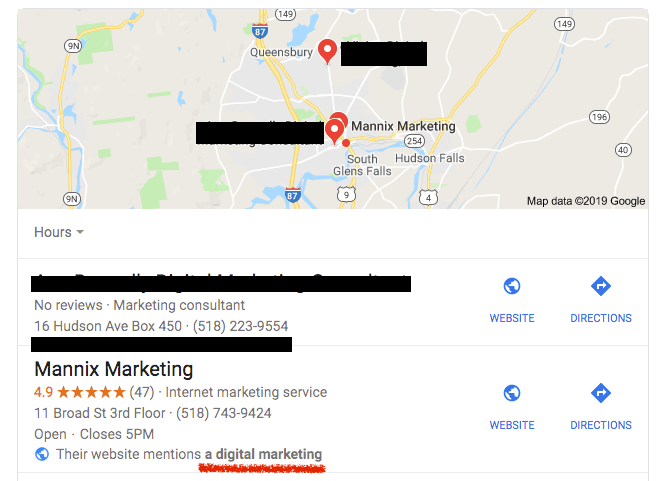 Recently, we have discovered that Google is now using Google My Business posts to pull from rich snippets at well. Moreover, these rich snippets are not confined to the 7 day post expiration window and are even pulling from all posts, recent or several months old. That's why it's crucial to write your GMB posts with rich keyword-filled content.


BONUS: This also occurs with reviews. So when asking customers to leave reviews for you, make sure you ask them to include the services they are reviewing or other relevant keywords you're going after!

3. Google My Business Can Improve Click-Through Rates
GMB Posts are a great way to increase the organic search engine traffic to your website. The placement of GMB Posts have moved around on Desktop Searches from the top of the knowledge panel to the bottom, but on Mobile Searches, your posts appear front and center, even before your NAPs information!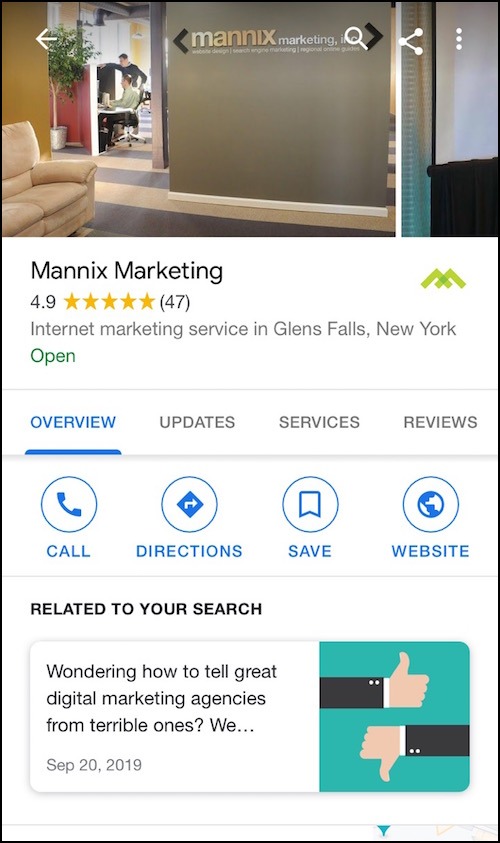 In the beginning of this year, Moz conducted another study to see if Google users were actually clicking to view GMB posts in full, and they found that in the 2,000 Google My Business profiles they reviewed, that on average a GMB post is clicked on almost 100% of the time.
And here's another fact from the Moz study: around 60% of businesses are already posting on Google My Business. So if you're not posting already, more likely than not your competitor is, and you should start posting soon.
Don't know where to start? Need help posting on Google My Business?
We get it. Google My Business is yet another thing companies have to do in order to appear in local search results. If you have an ongoing SEO program with us, your digital marketing strategist can easily incorporate this into their monthly SEO services (if they're not doing it already).
And even if you don't have an ongoing SEO program with us, we are now offering standalone Google My Business verification and posting services.
Interested in improving your rank in local Google searches? Contact us online today, or give us a call at 518-743-9424 to schedule a free 15-minute review of your plan and get recommendations from our Digital Marketing Strategists!