More and more travelers are discovering the benefits of direct booking with hotels, making search engine optimization strategies more important than ever for hotel and resort marketing. Our digital marketing specialists have determined the top three SEO strategies for hotels and resorts based on decades of combined experience getting hotels, resorts, and B&Bs found online.
3 of the Best SEO Strategies for Hotels & Resorts
1. Make Sure You're Getting Found in Maps Results with Local SEO Strategies
Making sure your Google My Business account is robust and up-to-date may seem like a no-brainer, but did you know that there are many more factors that weigh on Google's location and maps search results?
After your Google My Business account is fully loaded with address, contact information, industry (and lots of pictures!) you should start looking into how your business address is listed elsewhere on the internet. We refer to this process as getting control of your NAPs (Name, Address, Phone), or local citations. Something as simple as your hotel or resort being listed with street abbreviated in one place and spelled out in another can harm your Google Local rankings. Google also looks for backlinks and NAPs information on trusted directories. If you are not ranking well in Google Local results, chances are something is not quite right with your NAPs!
2. Create Content to Enhance the Guest Experience
If you took an inventory of content on your property's website right now, how much of it would be useful to guests if they already knew exactly which room they wanted? If you answered: not much, you're not alone… but you should take that as a sign to start creating useful content for your guests.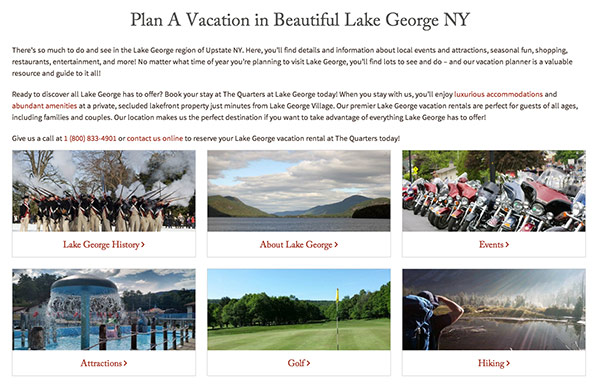 When travelers start planning their trip, chances are they will be looking for more than just a place to stay. If you can be their resource for places to go, things to do, or restaurants to try, then you've already formed a special bond with that traveler that will improve the chances they choose to stay with you. In these articles you can highlight how staying at your hotel or resort makes visiting these attractions more convenient or how your amenities nicely complement area activities. For example, maybe your great room has a giant fireplace that makes for the perfect cozy evening after a day spent skiing!
3. Use Schema Markups to Enhance Search Results
"Schema" is the technical term for how your website tells Google to display some search results differently than others. You've seen the recipes that pop up with pictures or the retail sites that have several links to different sections of their site under the main Google search result, right? Well you can also add schema for hotels and resorts to your website, making it easier for travelers to find exactly what they need.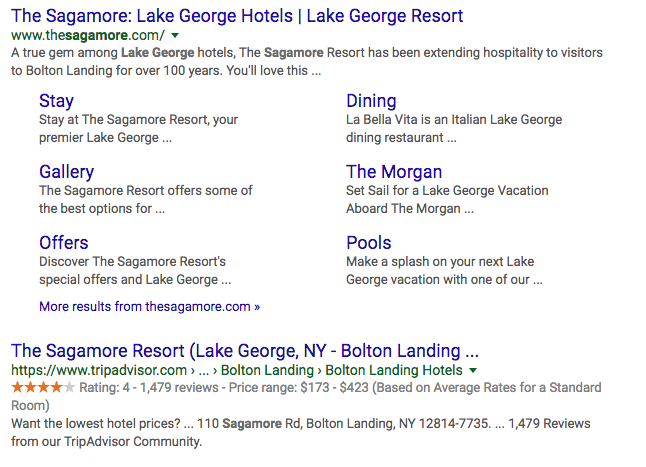 This screenshot shows two different types of schema. The first result uses schema to display links to frequently searched or visited pages on the Sagamore site. The second result from TripAdvisor displays ratings schema that allows searchers to immediately start evaluating the hotel as they quickly scan through search results.
Are you ready to get started with SEO strategies for your hotel or resort? Talk to one of our digital marketing specialists about SEO today!