A new website design. There are few things as anticipated or nerve-wracking as launching a new design for the website of your business. As the site launch date nears, some of us see visions of increased search engine traffic, more orders and reservations, leading to an early retirement. Others have nightmares where the website traffic stops and all business freezes for days on end.
Whichever vision you see when preparing for your website launch, keeping SEO and the importance of the traffic the search engines drive to your site is vital. Unfortunately, those in charge of overseeing a transition from one design to another do not always understand this. And in these instances, search engine placements and traffic can drop dramatically shortly after a new site design launch. When this happens, it's not always a certainty that these placements, and traffic, will ever be regained.
So how do you position your website in the best possible way with your redesign? Keeping Google's Webmaster Guidelines in mind is a good first step. Reviewing these during the early stages of a redesign is highly recommended so all the people involved in the project are on the same page.
Even with the knowledge that search engines like Google provide, some new designs go live with issues they shouldn't have. And inevitably these sites see a drop in placements and search engine traffic. So as you oversee a new website design project, what are the major mistakes to avoid in order to keep search engine traffic coming?
1. Keep The User Experience In Mind
We all like pretty things. There is nothing wrong with that. But focusing on the look and design of a new site and not keeping in mind how a visitor will use the website is a risky decision. Visitors may come to your site and not realize what it is you want them to do next, and leave to go to a competitor's website.
To get a feel for how people will use, should use, and want to use your new website, take a look at the current site's traffic patterns (especially for visitors who converted). Another good idea is to run usability tests on variations of the new designs under consideration.
We want to make sure we build on the user experience from one site design to the next, not take a step back.
2. Create A Mobile-Optimized Website
If you haven't heard, people are using their smartphones for everything, especially surfing the web. Making sure your website looks good and functions correctly on all devices is no longer a luxury- it's a necessity. If your site isn't mobile-friendly, you could be turning away 10%, 20%, 30% or more of your potential traffic.
In fact, Google recently made a special announcement notifying webmasters that mobile-friendliness will soon be included in their ranking algorithm (Google never makes announcements like this, so you know this is a big deal).
For most companies, getting a responsive design is optimal. A responsive site is basically 1 website that's look and configuration changes depending on what device the site is being looked at on. Take a look at how the Mannix Marketing home page changes from a desktop computer to a tablet to a mobile device.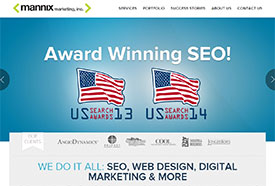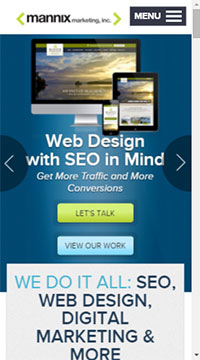 3. Make Sure Pages On The Site Load Fast
Speed is everything. This has been especially true when it comes to page load speed over the past few years, from both a user and search engine perspective.
Users don't want to wait around for a website to load. As soon as they see it may take more than a second, they will hit the back button and look for a different site.
Search engines want to give visitors the best sites, and that means sites they won't back out of because they are slow loading.
As the new site is being discussed and developed, make sure the pages aren't bogged down by external files, images or anything else. Google offers a quick tool to get a feel for how fast a page loads, for both desktop and mobile version of a page: PageSpeed Insights
4. Set Up 301 Redirects
This is definitely one of the more technical items on the list, but no less important. Your old site is bookmarked. It has backlinks to internal pages. The pages had SEO value. You don't want to lose any of the benefits these bring when you move to the new design. So you need to tell the search engines where on the new site the old site content resides. This is done with 301 redirects.
The first step in the process is to get a list of all the URLs that are part of the old site. Next, match each one up with a URL on the new site (if there is not a match, or close match, the home page will do). Your web developers should be able to take it from here.
If set up correctly, when someone tries to go to a URL from the old site that is not on the new site, they will end up on the page on the new site that most closely resembles the content from the old site.
Example:
Example.com/old-page.php is a page on the old site
The content that this page contains on the new site will reside at Example.com/new-page/
Then we would 301 redirect Example.com/old-page.php to Example.com/new-page/
5. Review Existing Website's Stats
As you move towards a new website design, it is vital to know how people are using the current design. What do visitors like? What pieces of content are popular? How can these sections be enhanced in the new design?
What content are people not visiting? What is that? How can we highlight these areas in the new design? Or are these areas not needed in the new design.
It is important to know your website at all times. This allows you to make changes to your site that are best for your business, whether it is redesign time or not.
Get a New Website with SEO Done Right
Are you considering a website redesign and want to avoid the common SEO mistakes that cost companies their rankings, traffic, and leads? Contact us today and we'll be happy to start the conversation with you.