Bingo…I mean Bing is the latest edition claimed to be the newest, greatest…next best search engine to rival the undeniable king, Google. Bing.com is on scheduled to replace Live.
Have you checked this new search engine out yet? Do you like it? Let us know what you think of this latest search platform. I was pleasantly surprised, actually, and plan on investigating it further. Bing offers us searchers categorized listings and if you hover over certain links, you will see 'more info'. Streamlined and quite nice!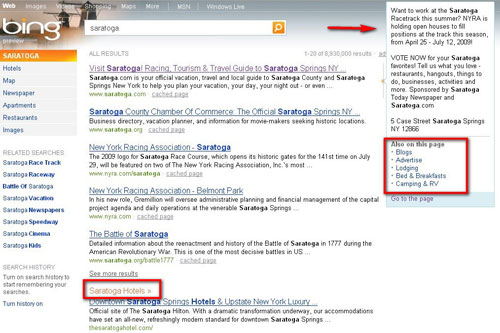 The fly-outs next to the actual links give users a quick glimpse into what the page is about prior to clicking on the link. Like Google, there are advertising links and options for the user to 'sign in' with an account. Bing's search results categorize the listings  for you – depending on your industry. See here:
The results are in and they seem pretty good to me! Critics are biting their tongues as they review this new engine. With a mere 8% of the search market, I think it's safe to say that Microsoft has some catching up to do in order to compete with Google's dominating, 64%. Oh well, I guess you gotta start somewhere! Kudos to you, Mr. Bing for putting yourself out there.