No matter what type of restaurant you own, Facebook is a great way to promote your business. Facebook has over a billion users with many active #foodies who love to follow and engage with their favorite restaurants. The Facebook platform is one of the most efficient ways to reach these users with free business pages and low advertising costs. There are many Facebook marketing strategies that can help you raise awareness, engage with customers, and most importantly, drive foot traffic to your business. Here are some of the ways you can promote your restaurant.
Create A Facebook Business Page
The first step in your Facebook marketing strategy should be to create an engaging Facebook Business Page. This will allow you to grow a fan base on the Facebook platform. Write an interesting, informative description of your business and select a captivating cover photo that will grab the attention of Facebook users. Make sure that you are using Facebook's latest size recommendations for your cover photo (current recommendations as of 2019 are 820 pixels wide by 312 pixels tall on computers and 640 pixels wide by 360 pixels tall on smartphones) and that you check the image on different devices.

Fill out all of the relevant sections of your Facebook Business Page to provide enough information for your followers. Facebook allows businesses to add a call-to-action button on their page. Some of the relevant options include: Call Now, Send Message, and Contact Us. Use these buttons to encourage users to reach out to you. You can also add your menu directly to Facebook by editing the More Info section of your Facebook Business Page. If you don't have a high-quality PDF or photo of your menu you can direct users to the menu page of  your website.
Use Your Facebook Business Page to Post About Your Restaurant
Have a dinner special? Share it on Facebook that afternoon and catch the eye of people who are finalizing their dinner plans. Updating your menu? Share the update a few days in advance to create some buzz about your new items.
Facebook is a very visual platform, so it is best to share a high-quality, captivating image. For example, it is much better to share a mouthwatering photo of an menu item then to describe the item in a photoless post.
It is important to remember the 80/20 rule of social media marketing. One out of every five posts should be sales related. This means that one out of every five posts should include a strong call-to-action to encourage users to use a coupon, order online, or visit your restaurant. The other four posts should be fun and informative to drive engagement.
There are many different types of fun and informative content that you can use on your Facebook Business Page. Some ideas include:
Seasonal Posts: Keep your posts fresh and relevant by sharing content that is relevant for the season. Share a seasonal menu item to highlight your fresh, local ingredients or showcase your beautiful holiday decorations.
Behind-The-Scenes Photos and Videos: These photos and videos will help your followers connect with you and your staff. Share a photo or video of your head chef completing a dish (and as an added bonus highlight your sparkling clean kitchen to instill a sense of trust in your business).
Staff Highlights: Share the employee-of-the-month or showcase the accomplishments of your staff members.
Questions: Post a simple question – like the one in the example post to the right –  and invite your customers to share their opinions. For example, you could ask your customer to share their favorite menu item or share their favorite dish for the holidays.
Reviews and Testimonials: Have you received a great review from a food publication or positive feedback from your customers? Share a snippet of the review on your page.
Contests: Create a contest for your followers and give a gift card to the winner(s). Check out the contest idea to the right for inspiration. We recommend using a third party tool for all Facebook contests since it will allow you to collect everything within one interface (emails, photos, etc.). We recommend the following tools:
Rafflecopter – www.rafflecopter.com
Contest Domination – www.contestdomination.com
One thing to note is that organic reach has declined for Facebook Business Pages. This means that your posts will likely only reach a small percentage of your Facebook followers. Due to this change, you may want to consider doing some Facebook advertising. Facebook Events can also help you connect with your followers.
Set Up Facebook Events
Hosting a dinner and beer pairing with a local brewery or offering a special menu for New Year's Eve? Facebook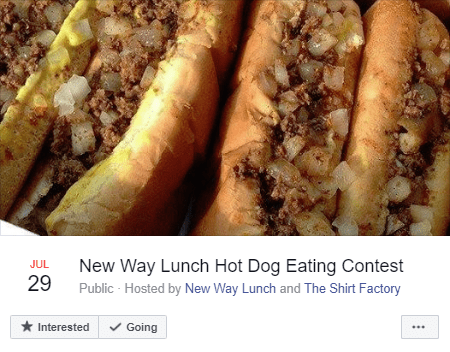 Events are a great option for promoting the upcoming events at your restaurant. It is important to create a informative, compelling event in order to generate interest from your customers and other Facebook users.
To start, you need to select a concise event name. If the name is too long or includes symbols and emojis, your Facebook Event will not look like a genuine event. Use a compelling event description and an engaging photo to catch the eye of Facebook users. The cover photo should be created using Facebook's latest size recommendations (current recommendations as of 2018 are 1920 x 1080 pixels). Always make sure you check how the cover photo looks on different devices.
Facebook will suggest your event to local users who may be interested in your event.
Select an event category and add accurate event details (time, location, etc.) to make sure Facebook reaches a relevant audience. Other ways to improve the performance of your event include:
Using relevant or custom hashtags to allow customers to join the conversation.
Tag partners or vendors who will be participating in the event. For instance, if you are hosting a dinner and beer pairing, tag the brewery.
Those partners or vendors can also be added as co-hosts.
Once the event has been created, you can promote it on your Facebook Business Page. As we mentioned, organic reach has declined for Business Pages, so you may want to create a Facebook advertising campaign for your event, as well.
You can learn more about creating and promoting events on Facebook here.
Facebook Advertising
Facebook advertising is a cost effective way to promote your restaurant. You can use Facebook advertising to boost your organic Facebook posts and Facebook Events. It can also be used to to build separate campaigns that promote your business.
When you boost your Facebook posts or Facebook Events, you will users on Facebook who you were not able to reach organically. You can boost posts and events to users who like your Facebook Business Page, Facebook friends of those users, or users you choose through audience targeting. The audience targeting method enables you to reach new users using unique identifiers such as their location, interests, and demographics.
There are many ways to use Facebook advertising to build separate campaigns that promote your business. Facebook enables you to choose different objectives depending on your advertising goals. Here are some options that may be relevant for your business:
Brand Awareness: This objective will help you reach users who are more likely to pay attention to your ad.
Reach: The reach objective will show your ad to the largest number of users.
Traffic: This objective allows you to direct users to a location off of the Facebook platform such as a website, an app, or a Facebook Messenger conversation. This objective can be useful if you want customers to order online.
Engagement: The engagement objective will help deliver more reactions, comments, shares on your posts. It can also be used to drive more offer claims on your offer post (for instance, if you want to use a offer ad for a coupon). Alternatively, this objective can help increase the number of Page Likes on your Facebook Business Page.
Video Views: The video views objective can help you promote your videos. We recommend using 15 or 30 second videos on Facebook, as shorter videos tend to perform best.
Conversions: The conversions objective can help deliver your ad to users who are more likely to take valuable actions on your website, app, or in Facebook Messenger. This objective could be used to help increase online orders, book wedding banquets, and drive other actions on your website. In order to use this objective, you will need to install the Facebook pixel or app events to track conversions on your website.
Store Visits: If you have multiple business locations, you can use the store visits objective to promote your business to nearby users. This objective also requires additional set up such as connecting your local pages to your main page.
After you have chosen an objective, you can select the audience you would like to target. Similar to boosts, you can target users with different locations, interests, demographics, and other unique identifiers. Facebook also offers a tool for testing out different targeting methods simultaneously. Use the Facebook Split Test tool to deliver ads to different target audiences to determine audience drives stronger performance.
Successful Facebook Marketing for Your Restaurant Starts Here!
These Facebook marketing strategies can help raise awareness of your restaurant, bring in new customers, increase engagement with your existing customers, and ultimately, increase your sales by driving more online sales and foot traffic for your business.
Interested in taking your Facebook marketing to the next level? Set up a social media consultation with our Facebook experts!
Want to learn more about marketing on the Facebook platform? Visit the Social Media section of our blog for social media marketing tips!
Looking to grow your fan base on Facebook? Find some tips for gaining more likes on your restaurant's Facebook page here!