Facebook now has a feature we call the "Invite Button" for business pages that will allow you to grow your fans exponentially! Here is how it works:
If your Facebook page has fewer than 100,000 fans or 'likes,' you can invite people who have reacted to your posts to become fans of your Facebook page.
How to Use the Facebook Invite Button
The best way to do this is as follows:
Go to your business or organization page
Find a post with high reach and engagement and click on the # of people who liked your post. This will bring up a list of the people who liked your post and whether they are a current fan of your Facebook page.  For those who are not fans, you can invite them to follow your page. 

Click on the "Invite" button
BONUS STEP: Add page editors.
You are only allowed to invite a limited number of people to Like your page each day. However, this limit is PER Editor on the account. So, make sure all the people who are Editors on your Facebook account send an invite every day. When we began testing this at the end of March with one Editor we gained a little bit of traction; when we added three more Editors, the net gain on Likes was even higher! (See screen shot below.)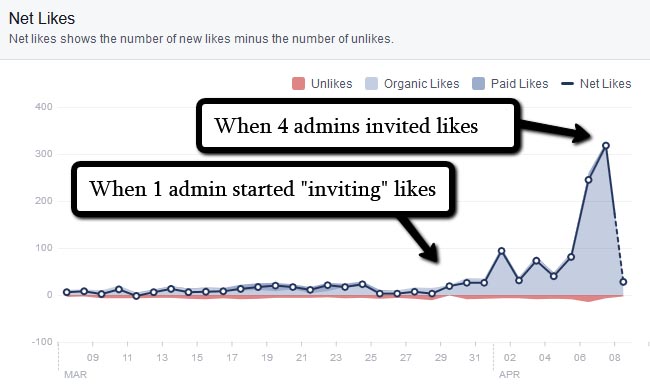 Frequently Asked Questions About the Facebook Like Button:
This feature is relatively new, so there are understandably some questions about exactly how it works. Here, we'll tackle a few of the popular questions we've heard.
Why do I see "Add Friend" instead of "Invite"?
Based on our findings, Facebook pages that have over 100,000 fans will display an "Add Friend" button instead of an "Invite" button. If you have a personal profile that is connected to the business then this can be a real advantage because only personal profiles can invite people to events…. so NOW, you can really take advantage of Facebook to market your events better. We love this feature and are excited about it.
Who does the Invite request come from?
If the person you invited to Like the business page has email notifications set up, then the invite will come from your personal Facebook profile (rather than from your Facebook page). If the person does not have email notifications set up, the invite will show up in their notifications as coming from your page.
Why Can't I Invite Everyone Who Liked My Post?
As mentioned previously, Facebook limits the number of people that each page administrator or editor can like on a daily basis. As a result, you may not be able to invite everyone who liked your post on a given day. To get around this, you have two options. First, you can simply invite as many as you are allowed and 24 hours later, go back and invite some more. Second, you can add additional page editors and have them invite people to like your page as well.
Success with The Facebook Invite Button
Using this new Facebook feature has helped us to grow our social media accounts exponentially! It's an easy – and effective – strategy that can really help small businesses grow their Facebook followings! We highly recommend trying it out.
We'd love to help you grow your business through social media marketing. Want to know what we can do? Call 518-743-9424 ext. 220 and talk to Sara. You can also learn more about our social media services here!
Curious about other strategies you can be using to enhance your business' presence on social media? Check out the following resources for some helpful tips!
Tips for Creating More Sharable Facebook Content – Learn about the benefits of sharing content on Facebook and the factors that make content extra-sharable.
A Picture Is Worth a Thousand Likes – Find out how you can use compelling images to improve the performance of your Facebook posts.
30+ Facebook Story Ideas for Businesses – Struggling to come up with Facebook Story Ideas for the month? We've got over thirty different Facebook Story ideas below, that's at least one per day!
Editor's Note: This post was originally published in 2016 but has been updated as of February 2020.