You want the best hotel website, you know it has to be mobile friendly and easy-to-navigate, you want beautiful photography but what else do you need? While it makes sense to keep your website modern, the best hotel websites help potential guests solve problems and make it easy for visitors to complete the travel planning process. In today's post, we'll review the most important features for great hotel website that convert lookers to direct bookers.
How to Plan a Great Hotel Website that Converts Lookers to Bookers
First Tip… Hire Mannix Marketing!  Really, we know how to design hotel websites that convert lookers to bookers.  After every hotel redesign, we love to hear our customers as they share their success stories.  We'd be happy to share with you how we price, what we do and why our hotel websites greatly improve bookings.  Call us for a 15 minute chat at 518-743-9424 or contact us online.  Want to learn more about how we design websites, here are 13 features we recommend, this is the tip of the iceberg and a nice start to a great website, but a well optimized SEO friendly hotel website that ranks well is critical… that just happens to be our specialty.
1.  Book Now Button or Embedded Reservations
Online reservations are a must, on mobile have a simple book now button on desktop when possible embed a date selection wizard into every page that connects to your online reservation system.
2. Smarter Live Chat and Chat Bots
A huge number of people are secretly planning their vacations at work, so they can't really pick up the phone in their cubicle and ask a simple question.  Make it easy for them by adding live chat.  The cheapest no frills solution is www.providesupport.com, the best solution for the price is www.livechatinc.com – much more customizable and personal with better administrative functions.  Be smart, don't just pop up with Hi, can I help you, why not a live chat that offers a benefit for booking direct!  
What is a chat bot?
Sounds scary right?  It's really not, it's just live chat on steroids.  You get lots of repeated questions, you right responses to questions ( have some fun, add emojis and animations), you create a set of rules… if this is said… say that.  The chat bot takes care of all the easy conversation and gets you involved when it can not answer the question asked.
3.  Sticky Mobile Click to Call
When you view the site on mobile, the phone number or a phone icon that you can click on to call should be on every page and stick to the top of the screen regardless of how far down the page you scroll
4.  Photos and Videos Dedicated Page
Sure, you have photos and videos throughout the whole site, but travelers want to see them all in one place and be able to self-direct what photos they look at.   Each photo should have a description that describes the photo and features the unique selling points of the resort.  Consider having multiple photo album pages that focus on different interests, rooms, activities, weddings, meetings, amenities etc..  Example from the Fort William Henry Resort in Lake George.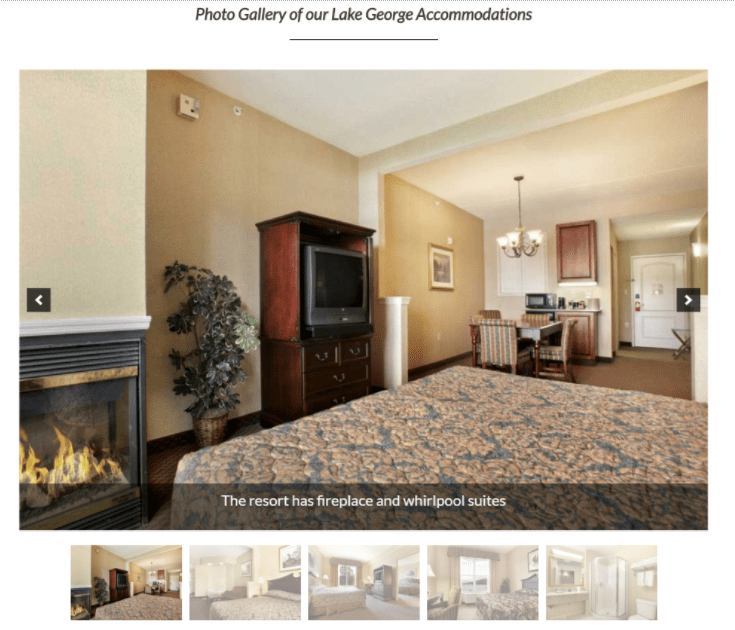 5.  The Google Driving Directions Widget
This may sound obvious but does your hotel website just have a Google Map or does it have the Driving Directions Map?  Most hotel sites have a map, but the map widget they use often doesn't have the directions easily seen in the screenshot.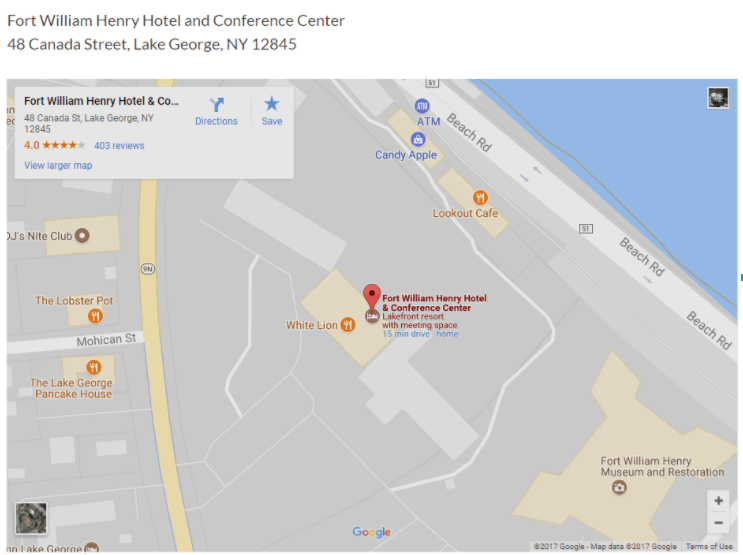 6.  Humans to Answer the Phone
If you can't answer the phone, hire a service to answer the calls that you can't answer and book the reservation for you for a small percentage. Not sure who to use, we can help. Also, we recommend that you consider training your new staff with call tracking, listen to every call and coach them on how to improve their customer service skills.  
7.  Don't forget The Resort, Hotel or Amenities Page
So many hoteliers get caught up in weddings, their restaurant, their rooms and photo pages, they forget the amenities and resort overview page that sells the property as a whole.  Don't depend on the main home page to do this, have a special page dedicated to your resort common areas, unique selling points, amenities and the many reasons that make your resort a great place to stay.
8.  Specials and Hotel Deals
Everyone is looking for a deal, even if you don't offer deals you should consider packages or at least explaining that you rate
9.  Itineraries, Events or Activities by Season
Are you off the beaten path, or are there special activities by season that you can highlight, are your guests looking for scenic beauty, adventure or romance, think about each of your customer types: families, millennials, young couples, girls getaways and show them all that your resort and region have to offer just for them.  The Trout House is a perfect example, family run and bucking the trend to sell inventory on the OTA's, so they sell themselves well by sharing the experience by season.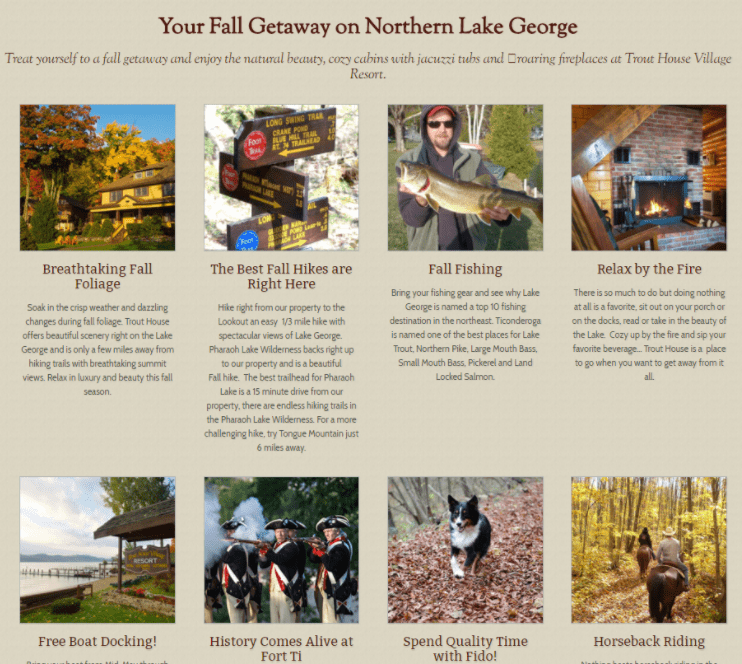 10.  Give them GREAT reasons to book direct
Whether it's free upgrades, a glass of wine upon arrival or an extra room night when they book four, find a way to entice your customer to book directly with you, we like this example below from the  http://www.thegothamhotelny.com/ , they are using  The Guest Book to run this program.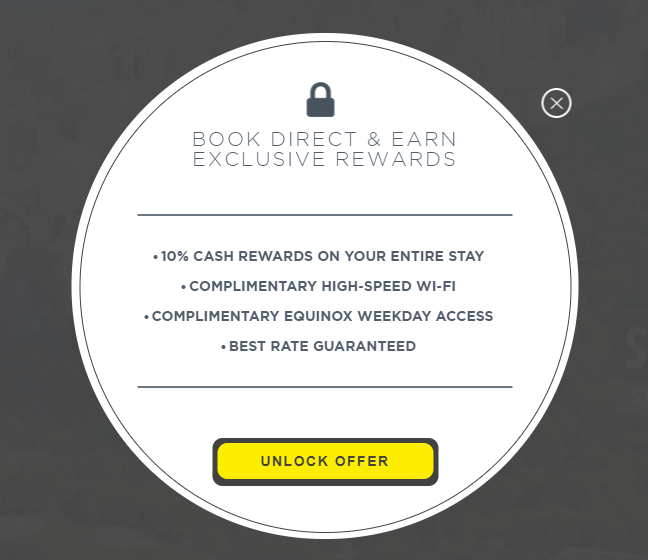 11.  Social Proof: Testimonials and Guest Reviews
We all know how powerful TripAdvisor is, but they are selling bookings through OTA's and diminishing your margins, why not add testimonials and reviews to your own hotel website!
There's a feeling of assurance that comes from hearing what actual customers have to say about their experience with a business- be it a hotel, resort, or any other type of company.Rather than asking visitors to hunt down this information on their own, however, the best hotel websites highlight their guests' reviews directly on the site, as shown in the example below from the Carolina Inn. In fact, this hotel's TripAdvisor rating as being 3rd out of 16 hotels in the region indicates that they're comfortable with their ranking (whereas many businesses might only display their TripAdvisor rating if they were #1 in their category).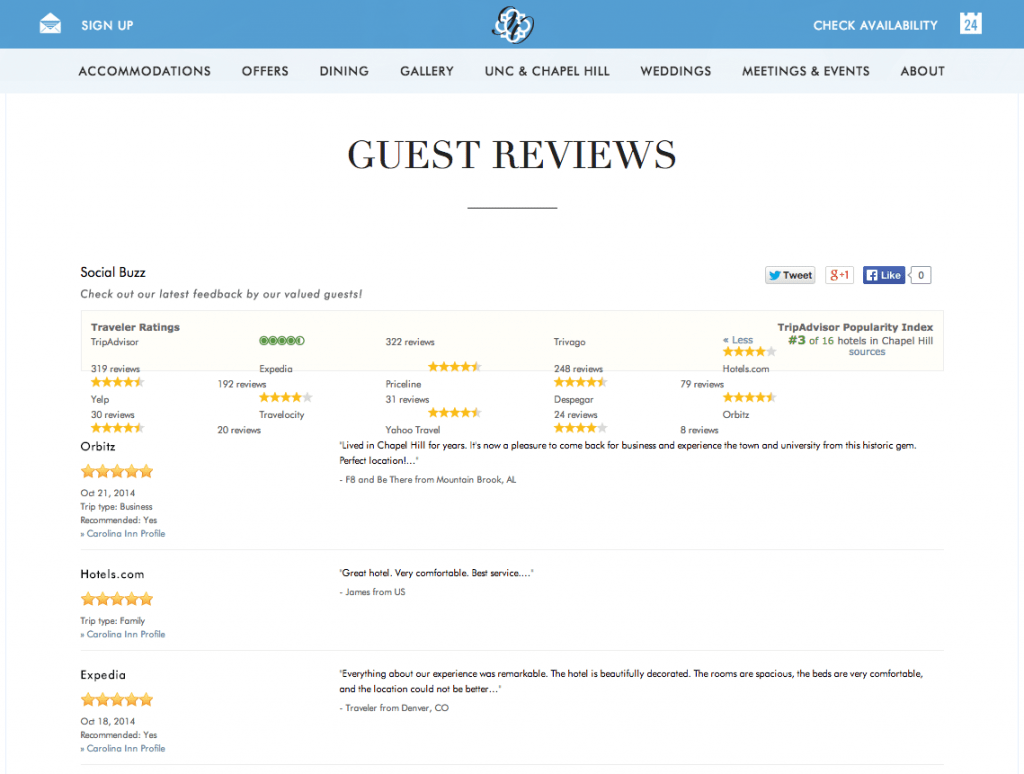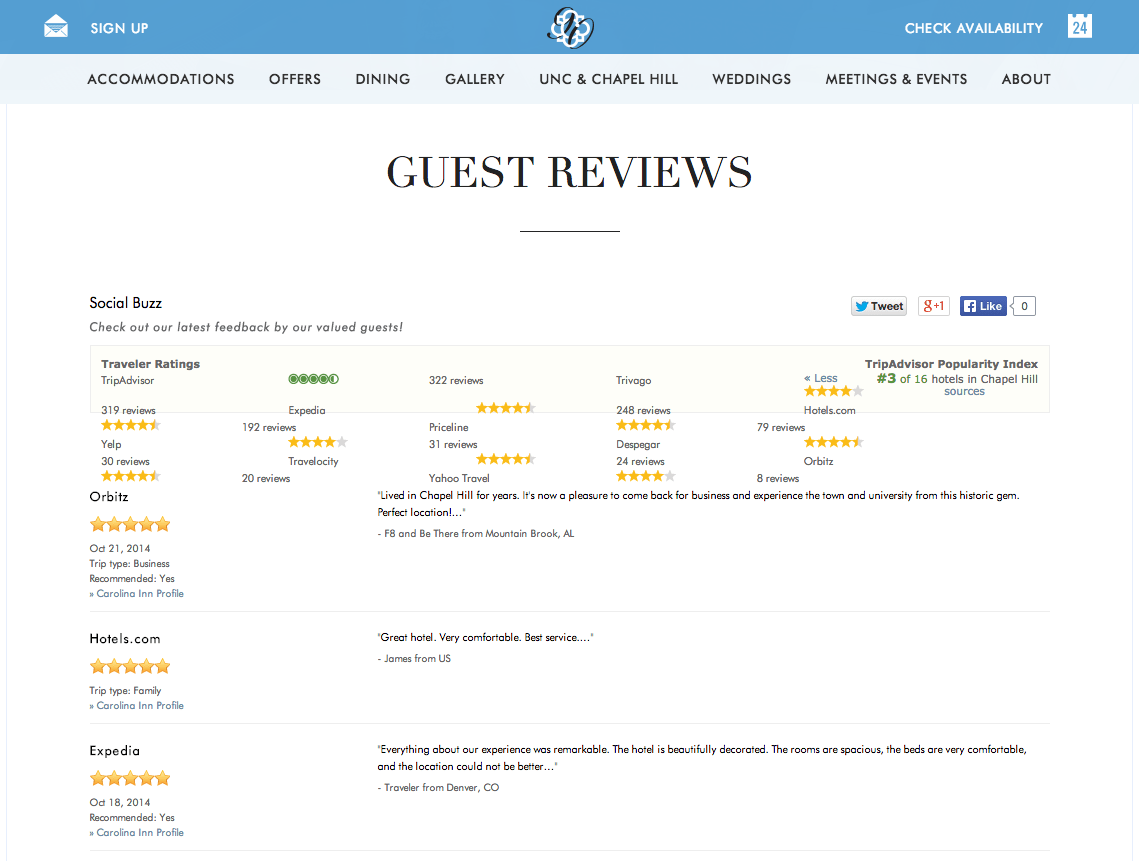 12.  Local Insights Blog
As consumers, we don't always buy the highest quality product or the lowest cost option. Often times we forgo the most logical option by choosing to buy local or buy from a company that delivers the best service and support.  Why? Because these businesses understand that the product is merely part of a larger experience.
In the world of lodging and hospitality, travelers aren't simply looking for a place to rest their head at night- they're looking for things to do in the region, places to eat, and an experience.
Often times, hotels have a deep connection to the region when it comes to hot spots for tourists, best restaurants in the region, and recommendations on area attractions that are likely to be sought out by their guests.
However, for the majority of hotels, their website hardly reflects their knowledge of the area, leaving an opportunity to speak to travelers' desire to explore the region.
The Modern Honolulu stands apart from the pack as they use valuable real estate on their website's home page to highlight something other than just their accommodations, venue, or specials. Specifically, they're leveraging their deep knowledge of Honolulu's tourist attractions to appeal to travelers' other needs.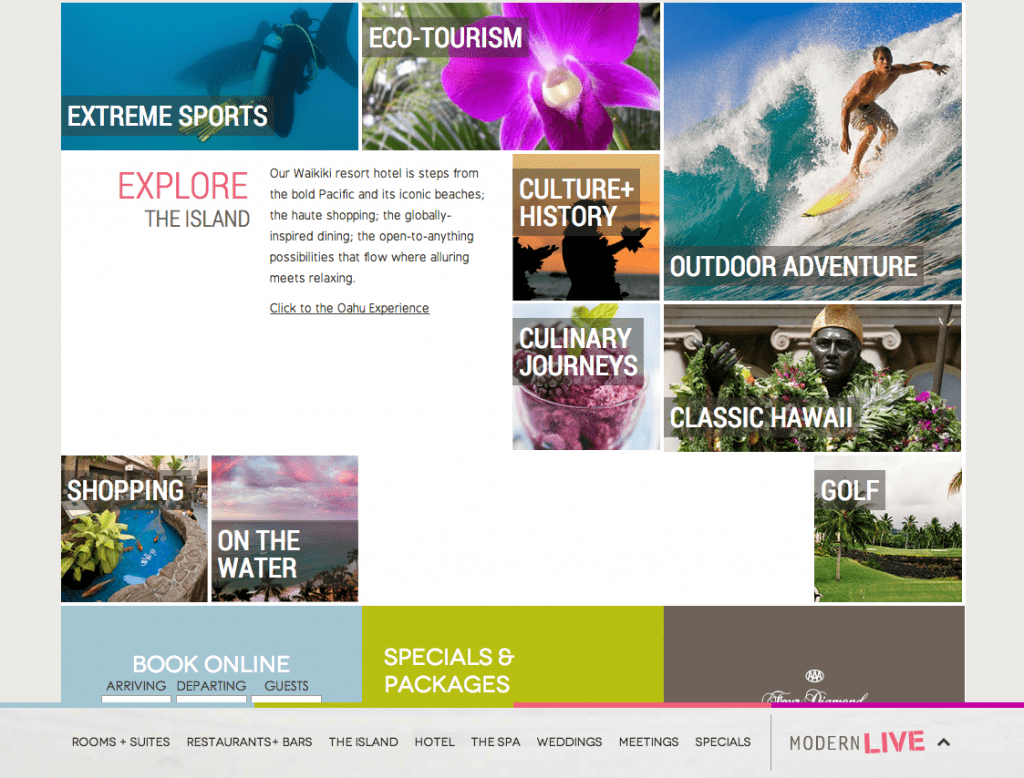 13.  Easily Accessible,  ADA Compliant,  Responsive Design
If you're a smartphone or tablet owner like me then there's a good chance that your smartphone is within arm's reach of your body right now. Or, you may even be reading this article on your mobile device.
Whether they're on a desktop, tablet or smartphone, today's travelers are hopping from one screen to the next to find hotels online. This is why it's imperative for hotels to have a website that's designed to work across devices and provide a great experience for desktop, tablet, and smartphone visitors, as shown in the example below for the new responsive designed website for Scotty's Lakeside Resort.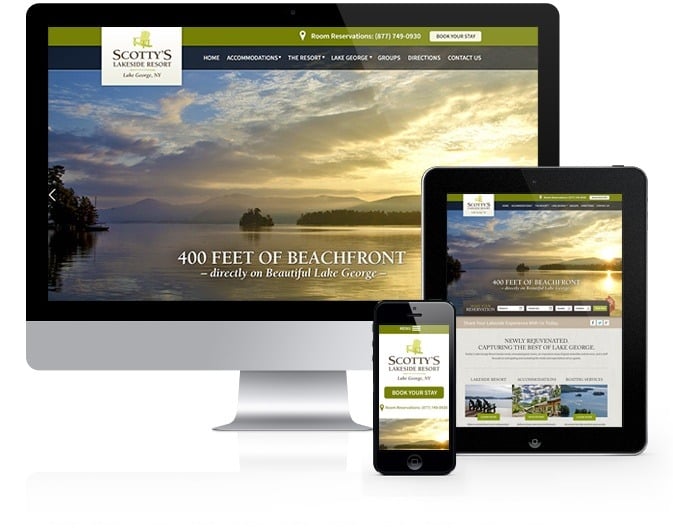 Considering a New Website for Your Hotel?
If you're considering a new website for your hotel and want to convert more lookers to bookers, then request your free marketing review with the team that specializes in website design and digital marketing for hotels.  There is a lot to creating a hotel website that converts, let's chat for 15 minutes, we promise that you'll learn a lot and most likely you'll find out that you want to do business with us.
Call 518-743-9424 and ask for a 15-minute digital marketing review and we'll show you what we can do to increase your bookings and increase your ADR and increase your occupancy rates!
Content Credit:  this great post was originally written by Mannix Alumni Jeremy Abel in 2014 and has been rewritten to include more features by Sara Mannix