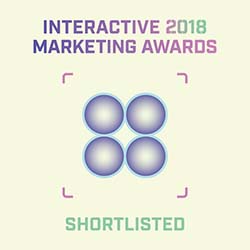 Mannix Marketing has made the Interactive Marketing Awards 2018's shortlist for entries in three different award categories. Mannix was named to the shortlist for "Best Social Media Campaign," in recognition for work with New Way Lunch, "Best Interactive Marketing – B2B" for efforts with American Heating Company and "Best Interactive Marketing – Retail/E-commerce" for an organic SEO campaign for Gettysburg Flag Works.
The inaugural Interactive Marketing Awards 2018 will celebrate and reward excellence in interactive marketing campaigns, agencies and in-house teams. The awards feature 28 categories and will be judged by a panel of international industry experts. Some 200 of the industry's senior digital professionals and influencers are expected to attend the event.
"We are so proud of our team and the quality of the work that has led to these prestigious nominations," said Sara Mannix, founder and CEO of Mannix Marketing. "It's an honor for Mannix Marketing to be recognized by the Interactive Marketing Awards."
This is the first year for the awards, which are presented by the organizers of the US Search Awards, where Mannix has been a winner multiple times in the past. As with that competition, the Interactive Marketing Awards are exceptionally competitive, with hundreds of entries and extremely high standards. Earning a place on the shortlist in any category is a notable accomplishment; only incredibly well-qualified campaigns and organizations make it through as finalists. The judging is a rigorous two-stage process including pre-scoring to determine shortlists and a judging meeting where entries are discussed and evaluated in detail to decide the winning entries.

Interactive Marketing – Retail/E-commerce: Gettysburg Flag Works
Developed and facilitated by Senior Digital Marketing Strategist Jessica Tracy and Digital Marketing & Social Media Strategist Amberly Rundell, Mannix Marketing's shortlisted campaign for "Interactive Marketing – Retail/E-commerce" focuses on increasing organic search traffic from individuals and businesses looking to purchase products from Gettysburg Flag Works, a leading provider of flags and banners. Earlier this year, Tracy, Rundell and the Mannix team won a US Search Award for the same campaign.
The immensely successful campaign leveraged a combination of on- and off-page optimization strategies, including in-depth keyword research and competitor analysis, off-page link building, metadata and H1 optimization, social optimization, creative content marketing techniques, conversion rate optimization strategies, heat map tracking and email list growth strategies to grow online sales.
"We are honored to be recognized again for our work with Gettysburg Flag Works," said Tracy. "This project has been an ongoing collaborative effort to create an engaging online experience for customers while driving traffic, engagement, and ultimately sales for Gettysburg Flag Works. It's so exciting to see our strategy shortlisted among those from other notable agencies in our industry."
Interactive Marketing – B2B: American Heating Company
Tracy's digital marketing work with American Heating Company (AHC), a supplier of industrial heating equipment, also received a shortlist nomination, for the "Interactive Marketing – B2B" category. In 2017 Mannix conducted an extensive monthly organic SEO campaign for AHC, to improve their online presence, increase organic search traffic and rankings for specific relevant keywords, boost awareness of AHC among potential buyers and ultimately, drive conversions and sales.
To meet these goals, Mannix used a variety of tactics, including on-site SEO, conversion rate optimization, pay per click advertising, building and maintaining a social media presence on LinkedIn, and a robust blog content campaign. The strategy was a huge success, with Mannix helping AHC achieve a record year in 2017, meeting all goals established for the campaign.
"I'm thrilled that we have earned a place on the shortlist for this content marketing and SEO campaign," said Tracy. "Creating innovative content for business-to-business marketing initiatives can be a challenging task, but it's so rewarding to see the difference it can make for a business like American Heating Company. Having the campaign recognized by the IMAs is really the icing on the cake."
Best Social Media Campaign: New Way Lunch
Mannix's advances in social media didn't go unnoticed by competition judges, either. The agency was also nominated for "Best Social Media Campaign," for its work promoting New Way Lunch, a favorite local upstate eatery with multiple locations in the Capital Region. Led by Rundell, the restaurant chain—known for its hot dogs with meat sauce—has enjoyed tremendous growth in its presence on Facebook and other channels since tapping the Mannix team.
For New Way Lunch, Rundell's strategy included contests, a hashtag campaign, creation of Facebook LIVE content, sponsored ads, promoting reviews, posting photos and encouraging storytelling by fans, regarding memories at the restaurant throughout the years. Among other highlights, the campaign helped New Way increase its social media fans from 800 to more than 8,400, gain 314 raving reviews with an average 4.7-star rating, and boosted website traffic originating from Facebook by an incredible 535%.
"Being recognized and selected for the shortlist among hundreds of entries from the leading agencies in our industry is exciting, humbling and inspiring," said Rundell. "We're thrilled to know that our creative digital marketing strategies continue to stand out in a field that's constantly evolving."
Digital marketing winners of the Interactive Marketing Awards 2018 will be announced at a celebratory gala dinner on April 10, 2018, at Fort Lauderdale Convention Centre.