After winning back-to-back US Search Awards in 2013 and 2014, Mannix Marketing is now in the running for a third consecutive US Search Award nomination by making the US Search Awards 2015 shortlist in 3 distinct award categories. For this year's awards, Mannix is competing for "Best Use of Search – Travel/Leisure," "Best Low Budget Campaign," and "Best Use of Social Media in a Search Campaign."
US Search Awards Shortlist Categories
The movie industry has the Oscars; the music industry has the Grammys; the search industry has the US Search Awards.
The US Search Awards attracts hundreds of entries from the top search and digital agencies throughout North America and beyond. Judged by a panel of industry experts, this is one of the highest honors a digital marketing agency can receive to recognize the noteworthy performance of their search-related marketing campaigns.
Mannix Marketing's entries are shortlisted with some of the top agencies and brands (such as Expedia, Walt Disney Parks & Resorts, and more). We're thrilled to have made the shortlist in not just one, but three distinct categories, for this highly-coveted award, including:
Best Use of Search – Travel/Leisure
Mannix Marketing & Saratoga.com: Improve Brands Reach Through Organic SEO & Content Development
The objectives of this campaign were to increase traffic to Saratoga.com, build brand recognition, turn Saratoga.com into a top online destination for residents and visitors seeking information on what's happening in the Saratoga region, and subsequently convert those visitors to business leads for advertisers on the site. Facing steep competition from national brands who are increasingly encroaching on regional websites, we were able to obtain #1 placements in the organic search results for hundreds of targeted keywords, generate a surge in traffic from Facebook and organic search, increase revenue from Google traffic, and send more people to key sections of Saratoga.com.
Best Low Budget Campaign
Mannix Marketing & Koke Incorporated – Organic Search Engine Optimization Campaign
Koke Inc. approached Mannix Marketing with a limited monthly budget for a Search Engine Optimization program that needed to help them capture the attention of a national audience. With a strategy focused on gaining traffic by improving positions within the search engines, we performed in-depth research to gain a well-rounded understanding of the business and their industry, developed informative, authentic content to build out the website, optimized the website with potential buyers in mind, and more.
This led to a 40% year-over-year increase in traffic, 30% increase in qualified leads, 25% year-over-year increase in sales, and many more noteworthy results.
Best Use of Social Media in a Search Campaign
Mannix Marketing & Adirondack.net – Organic Facebook Campaign
This campaign was designed to increase new and returning visitors to Adirondack.net, maintain and grow Facebook audience and referral traffic from the Adirondack.net Facebook page, and improve overall traffic to specific sections of Adirondack.net. Working with an editorial team to identify opportunities for generating more traffic to the website, we created unique, "evergreen" pieces of content as well as viral articles which would grab the attention of Facebook users and readers in general.
In a relatively short period of time, the results included (but were not limited to) a nearly 60% increase in traffic from Facebook, a 29% increase traffic from organic search, 42% increase in traffic from new visitors, and substantial growth in traffic to specific areas of the website.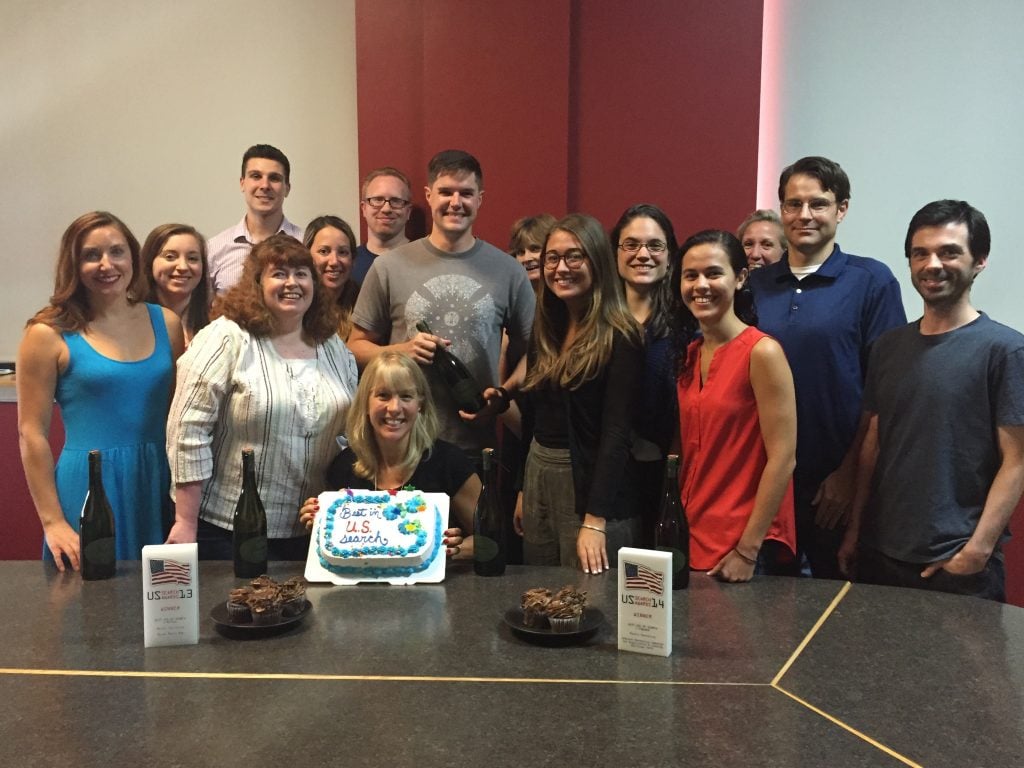 Announcing the Results
The winners of this year's awards will be announced on October 7, 2015 at the 2015 US Search Awards ceremony in Las Vegas, NV. After winning the 2013 US Search Award for Best Use of Search – Retail, and winning the 2014 US Search Award for Best Use of Search – Finance, we're eager to hear the results of the 2015 awards.