That is the reality that restaurants in New York State and across the nation are facing.
The Challenge
Ravenous, a chef-run restaurant in Saratoga, specializes in custom crepes, poutine, pomme frites and dipping sauces. With dine-in seating off the menu, sales quickly dropped. The owner, David Zuka, needed a fast, effective solution that would keep their food and their business top of mind.
Zuka turned to Mannix Marketing for ideas. We recommended a visual social media promotion that gave locals a reason to purchase while reminding them they could still enjoy their favorite crepes and frites at home.
Anatomy of a Post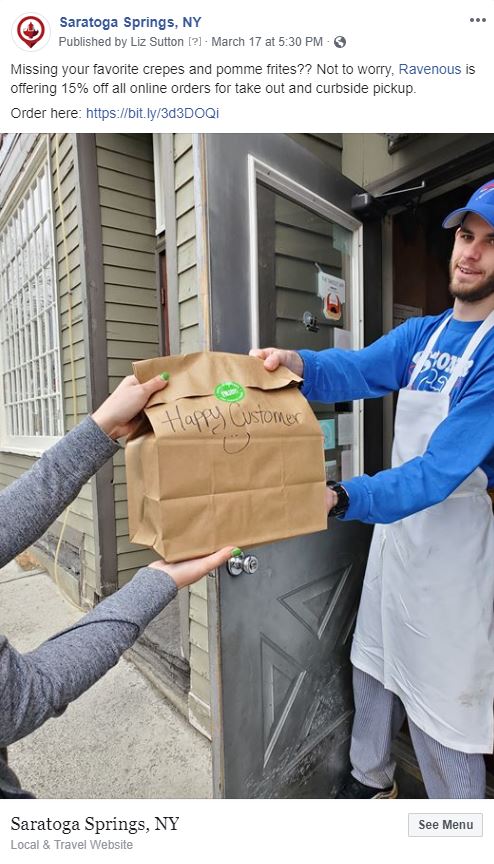 Give them a reason  — 
Missing their favorites
15% discount off online orders
Give them a visual  —
Happy Customer
Great Staff
Give them an easy way to order —
The Results
The post reached nearly 37,000, garnering 55,883 impressions, 3,571 engagements and 2,874 post clicks.
In addition, previous diners were quick to comment, attesting to the quality of the food and stating their commitment and support of Ravenous. This attracted new customers who were excited to give Ravenous a first-time try.
After the promotion, Ravenous saw a major spike in takeout orders and business.
"I have been working with Mannix Marketing and Saratoga.com for many years now," states Zuka. "They have a great ability to help drive business to my website and restaurant and consistently outperform other platforms in the region."Recently, the 'temporary normal' hit and their team was ready and waiting to help in any way they could!" said Zuka. "It started with a fantastic Facebook promo (it reached 37,000 people) that got us out of the gate quickly and the continued support online has been awesome."
Wondering How To Market Your Business During These Uncertain Times?
We are here for you. Contact a digital marketing strategist to brainstorm your unique strategy today. [email protected]