The niche social network Pinterest is gaining popularity, and seems to be catching on quickly. If you are unaware, Pinterest.com is a virtual pin board, where you collect and admire images found all over the web. It's like a bulletin board, only you are pinning up web images, on an online board. You can pin whatever images you want, and you can sort and organize your pin boards based on your interests.
This is what my Pinterest feed looks like.
Pinterest has jumped from only 40,000 users in October 2010, to more than 3.2 million in October 2011! This is pretty surprising, considering you still need an invitation to join the network. You can request an invitation from Pinterest, or if you know anybody that is already active on the site, they can hook you up with one. Once you get your invitation, you can sign in through Facebook or Twitter. (Pinterest does not post status updates or tweets automatically, unless you ask them to). I think that the most striking thing about Pinterest's popularity is the amount of time that people are spending on the site. The site is relatively addicting, and I wouldn't be surprised at all if most users spend upwards of an hour there, each time they visit.
How Do You Use It?
There are a few different ways to go about your pinning. You can visit Pinterest and just browse the general boards, which are split up into categories: Art, Fitness, Food & Drink, Humor, Apparel, Outdoors, Pets, Travel, etc. By selecting a category, you will be shown a page that is full of images pertaining to the category. Decorating a room in your house? Head to the Home Decor category and get some ideas! Need some new threads? Check out the Apparel category and catch up on the latest styles!
You can also pin images while you are surfing the web. When you sign up for Pinterest, they will ask you to install the 'Pin It' button on your bookmarks toolbar. This button allows you to pin almost any image you come across while you browse the Internet. So lets say you're a bit of a foodie, and you like to search for recipes online. If you see one that you would like to try, or have tried and love, pin the image of the dish and spread the love! When you pin an image, a link appears on the Pin that will lead any viewer back to the source. This will lead anybody that is drooling over your image of those homemade potato-cheese pierogis straight to the recipe!
This brings me to the next way to use Pinterest. As an SEO tool! Every Pin on Pinterest has a link included with it, leading back to the source of the image. There is an exception to this, as users are able to upload images directly to Pinterest, without finding them on the web. Users do do this, but at least 95% of the images on Pinterest were either pinned or repinned from the web. So how does pinning images help your SEO rankings? Back links. If you have images on your website, I suggest you start pinning them. This offers extra off-site exposure for your website, as well as providing back links. Even if nobody follows the link, it's still there, and it still counts.
Why Should You Use It?
The obvious reason to use Pinterest is: because it's awesome! Most of the users on Pinterest are just there for the images (which is a perfectly good reason to use the site). You can search images through the categories, by viewing a users specific boards, or by doing a keyword search on the top left corner of the page. Feel free to just browse Pinterest, the pin boards are almost never-ending. NOTE: Don't visit this site if you have something important to do, as you will likely spend hours browsing pages and pages of the web's finest imagery.
Pinterest is also quite useful as far as SEO goes. Each Pin contains a few links, that will certainly help SEO rankings. 'Pin It' buttons can be positioned right next to an image on your site, which is what I see a few retailers doing. If you are browsing the Internet, and see something that you want, pin it up for everybody to see! This is a fun and useful way to share what you think about the products you have, or wish you had. This also promotes the product itself, and depending on the popularity of the subject, could be repinned or shared over and over again.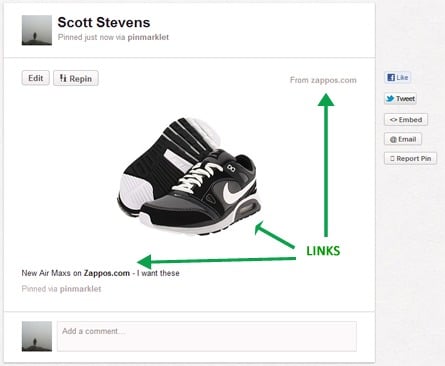 As you can see, there are several links being created each time an image is pinned. The link in the top right of the Pin will always be there, this shows where the image originally came from. The image itself also acts as a link, directing you to the source of the image. The third link, in the description of the Pin, was put there by me. Any URL in the description of the Pin is automatically turned into a link. As the image shows, it doesn't have to be a complete URL, it can be something like Zappos.com. That link does not direct the user to the specific product or image, but the Zappos homepage instead.
When multiple images are pinned from the same site, there is a box that appears to the left of your pin, which shows pins that are from the same URL. After you stumble upon an image that you like, you'll notice other related images from the same site, which you will surely want to check out. See how this could become addicting?
So if you are sick of tearing recipes and fashion inspiration out of magazines only to be left with a pile of clippings, or if you want to boost the SEO rankings of your website, OR if you just want to check out some of the best looking imagery on the web, you really need to check out Pinterest.
If you've asked for an invitation to Pinterest, and haven't gotten one yet, email me and I will send you one (my email address is at the top of this post). Happy pinning!