With holiday shopping at the forefront of consumers' attention, knowing how to blog effectively can be a lucrative online marketing tactic for retailers of all shapes and sizes. When it comes to blogging for business, the benefits are pretty clear by now: share your knowledge of the industry, attract more followers, improve your organic search presence, and on and on and on.
Now the age old question – what do I blog about and how can I turn my blog readers into shoppers?
As with anything else, there are some tips specifically for retailers that I'd like to share to aid in marketing (and selling) your products!
Whether you just added a new blog on your website or need a few tips to keep the blogging momentum going, here are some great topics that you can write about on your retail blog.
Let's get started!
Show Off Your Merchandise
Exclusivity is a powerful psychological trigger- it gives people the sense that they are ahead of the curve and "in the know"! Get customers to crave your latest shipment of goods by discussing the uniqueness of your new line-up.
Tease people with just a few of the hottest items, and then encourage them to visit your store to check out your other new pieces. Showcasing your new fall fashion line in a visual story board or just candid shots of you unwrapping the new goods will be enough to let your fans know you have new merchandise for them to drool over!
Storyboards are great for this. One of my favorite resources for creating storyboards is Polyvore. This nifty little tool lets you make stunning, polished storyboards to create an entire look with your apparel. In fact, you can use this tool to create a storyboard for just about anything: home décor, ensembles, cooking gadgets, paint colors, even tool kits (think the Fall Yard 101 kit -winterizer seed, lawn mower, etc.).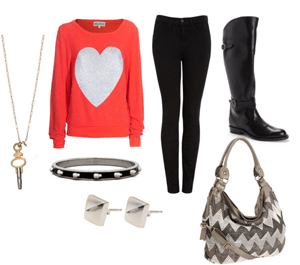 Always be mindful of the season: for the holidays, offer a printable holiday gift guide; for spring cleaning, offer a printable checklist branded with your logo. These are very easy to create, and very useful to your target audience.
Plus, you have just taken the guess work out of the chore, be it shopping for people on their Christmas list or doing the necessary home chores for spring cleaning.
Perhaps you have a shopping cart on your e-commerce site? If so, it can be worthwhile to include links for instant shopping gratification. You could even include a Blog Exclusive Promo code to track how much traffic is coming direct from the blog AND encourage repeat followers!
Highlight Industry Styles and Trends
For fashion boutiques and other retailers be sure to use your expertise and creative eye to discuss the latest trends. Use your blog to talk about the new fall trends, what is happening on the run-way, hot colors, etc.
Not everyone is blessed with an eye for fashion- it takes a creative-type to be able to say what top goes best with those new jeans. If you have that knowledge then don't hesitate to share it with your audience- it's a great way to communicate your understanding of how to match specific pieces of clothing, and make people look (and feel) their best!
If your tips are really helpful, it's likely that your blog followers will eat that information up and share it with their social networking communities.
[Sharing content is critical for helping your message go viral. To enable easy content sharing we suggest adding AddThis.com or ShareThis.com to your blog immediately!]
Answer Common Customer Questions
Get your followers to engage with you. Ask them specifically what they think of the new trends, what they would like to see in your store, what brands they like/dislike and so on.
Remember, the conversation shouldn't always be about you and your brand. It's about becoming a trusted resource for your audience to turn to when they need help with an industry-related question.
Sometimes, all it takes is just to ask at the end of your post for comments! By doing so, you have now developed a relationship with your customer (or potential customer).
And when they comment, respond back! Thank them for their input, provide your feedback and BAM – you're on your way to forming a genuine relationship with your audience.
[If your blog platform makes your followers jump through 7 gates of hell to leave a comment on your posts, you definitely need a new comment tool. We recommend using Disqus– which is a simple plug-in that makes it easier for your followers to comment on your blog.]
Promote Events and Sales
This sounds like a no-brainer but promoting your events and store sales is a great way to get people in the door –even with short notice.
You could even run special events or discount days just for your blog followers, like a blogger meet-up for all your readers. Chances are, they will bring friends, and family with them too.
To increase sales, attract new customers, and retain current customers, many retail stores implement various sales promotion techniques. Make sure to let your customers know when you are running these sales and promotions.
Offer Giveaways or Contests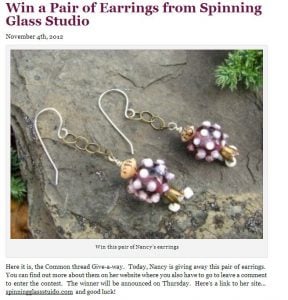 Run a post giving away something you sell in the store. Request that they comment in order for their chance to win and have them check back a few days later to see if they won! This will encourage excitement, interaction and repeated visits.
You can also use a tool like Rafflecopter which you can embed right in your blog to easily set up a giveaway. Rafflecopter is neat too by providing additional entries if your subscribers share your content, retweet the contest, etc. It is fully customizable so you can pick and choose what other actions you want blog readers to do in order for additional entries.
Best of all – it is free and easy to set up and track analytics!
For more suggestions, tips and tools for retailers keep an eye out for our follow up post: Blogging Tips for Retailers [Part II]
Have you used- or do you plan to use- any of the tools mentioned in this post? I would love to hear your thoughts and experiences in the comments below!