Looking for ways to get more exposure for your business, attraction, or special events this summer? Whether you're trying to reach more locals or tourists in Albany, Saratoga, Lake George, or the surrounding regions, here's how you can quickly and easily drive engagement and reach more customers online with the power of Mannix Marketing's local guides and advertising services.

Just Get Listed – No Brainer Advertising
Paid search and SEO can be expensive, but what is not expensive is the directory listing ads on the local guides for upstate NY.  Our cost per click is typically at least 1/2 the cost of a Google Paid Search campaign!  With rates as low as $25-$250/month depending on your business category, getting found on our directories is what we call "no brainer advertising", it's super affordable and you instantly are found on a page that consumers go to – to find businesses like yours.  In addition, there are benefits for your ranking in the search engines, as Google is looking for brand buzz – where are you mentioned, listed and linked from on quality sites.  If you don't have brand buzz, let us help you, get better ranking, more traffic and more new customers!  Email: [email protected] today!
Boosted Facebook Promos
Tap into our influence on social media! People visit our Facebook pages to find places to go and things to do in the area.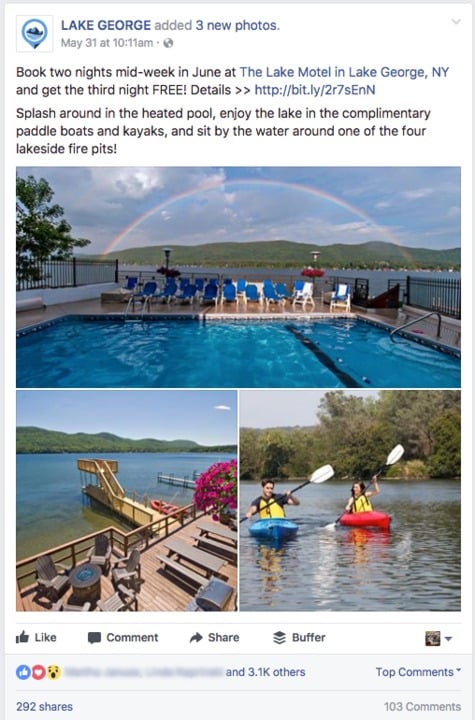 How big is our Facebook audience?
Adirondacks: 200,000 Fans
Lake George: 172,000 Fans
Saratoga Springs: 73,000 Fans
Albany NY: 30,000 Fans
Display Ads
Dominate the Home page, the Things To Do section, and/or the Events Calendar with a display ad. This online billboard will ensure that anyone looking for local businesses or things to do in the region will know about your business.
Home Page Hero Image
Get exposure to tens of thousands of people visiting our site directly when you take over our Home page Main "Hero" Image. Your business will be on the home page for all devices- desktop, tablet, and mobile- and will include a link to your website where people can learn more about your business.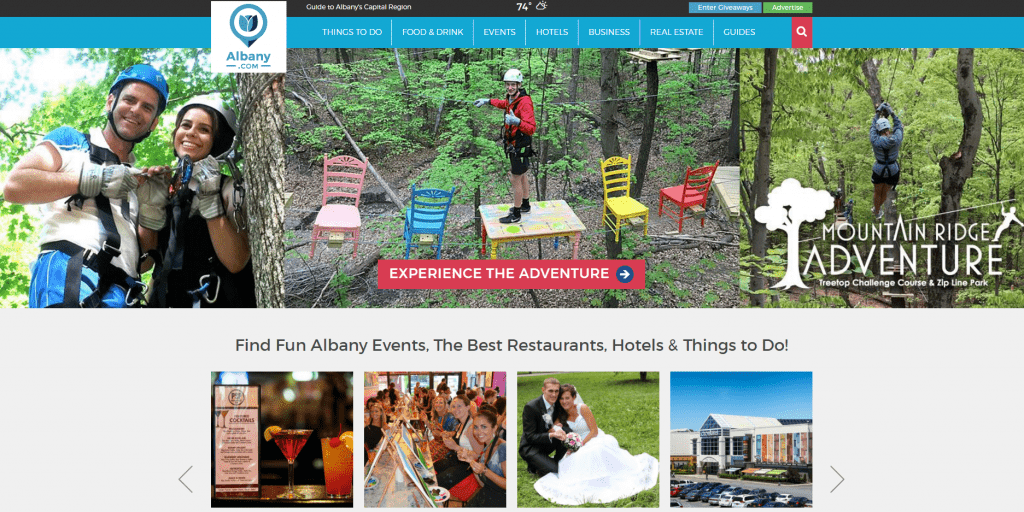 Newsletter Ads
Reach people where they are looking everyday – their inbox! Your ad can reach up to 100,000 people who love finding the best deals, local businesses, and events in the region.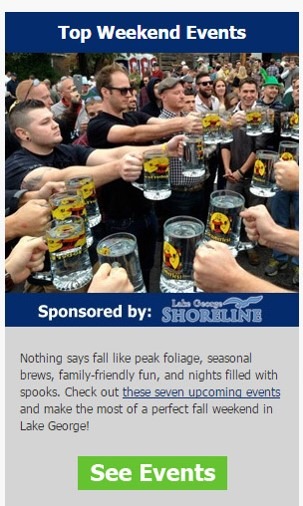 Request A Local Advertising Services Consultation Today
Want new customers to find YOU this summer? Contact our Digital Marketing Strategists today for a local advertising services consultation.