One of the most common questions we hear from businesses large and small is: "How can I tell if my company needs a new website?"
This is a critical question because your website is the digital face of your business and can be one of your best sources for accumulating more leads and sales. At Mannix Marketing, we look at a variety of factors to help determine whether or not a business needs a website redesign and have listed our 7 key signs below!
It's Probably Time for a Website Redesign When…
There are many signs that your company may need a website redesign, and some are more important than others. Our digital marketing strategists consider the following to be some of the most important factors.
1. Your website takes forever to load
Page load speed is everything. No one wants to wait for a website to load for more than a few seconds. If your website is slow, buyers are more apt to lose interest in your business, jump back to the search results, and go to your competitor's website. But it's not just users who look at page speed–Google does too. And if your website is slow, that can drastically affect your ranking in Google search results.
Google started using site speed as a ranking signal in their algorithm way back in 2010. In 2018, Google doubled down on the importance of page speed again by starting to use mobile page speed as a ranking in their mobile search results. And recently in May 2020, Google announced that a new update will go live sometime in 2021 that will start judging web pages based on page experience. Page experience comprises a number of factors including mobile friendliness, HTTPS security, and page speed.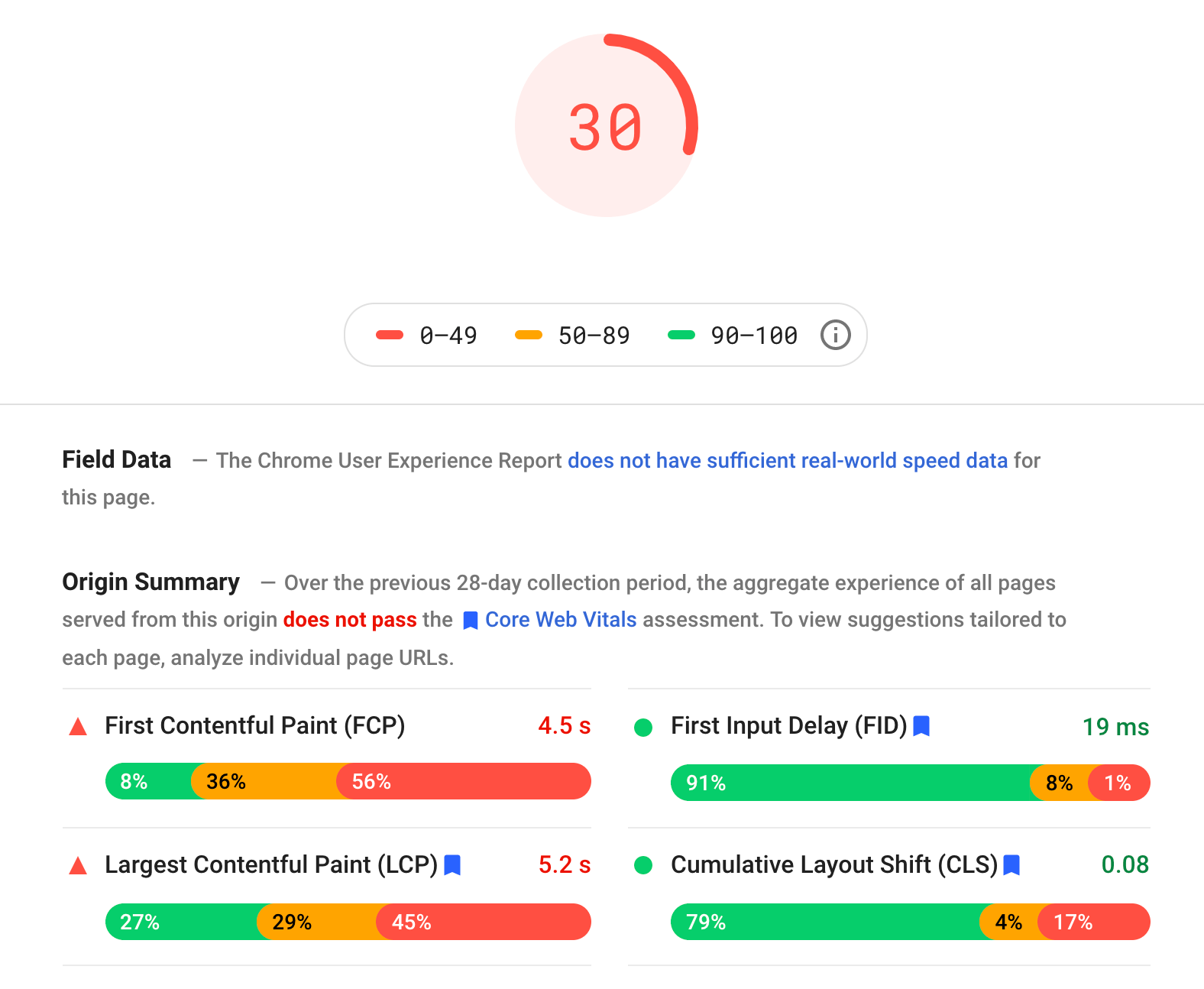 In the upcoming 2021 update, Google's Core Web Vitals are looking for websites who's Largest Contentful Paint (LCP) occurs within 2.5 seconds and First Input Delay (FID) measures less than 100 milliseconds. You can run your own website through Google's PageSpeed Insights to see if your website's page speed hits the mark. If it doesn't, you should seriously consider redesigning your website before the 2021 update goes live.
2. Your website is not accessible
We've written a number of blogs on the importance of making your website WCAG accessible. An "accessible" website simply means your website is coded to be read by screen readers and to be used by people with various disabilities. You can read more about the specifics of the most recent website accessibility guidelines by reading The World Wide Web Consortium's WCAG 2.1 guidelines.
In addition to making your website more accessible to people with disabilities, a WCAG accessible website may also prevent your business from getting sued. Since a landmark court case in 2017, there have been a growing number of lawsuits arising in which businesses are getting sued under the American's with Disabilities Act, because their websites do not meet the extensive WCAG accessibility requirements. Defending yourself against these lawsuits can be quite costly.
If you're not sure if your website is accessible or not, WebAIM is a good place to start. Although it's not guaranteed to catch all ADA compliance issues, this free tool will give you an initial baseline of where your website stands. In order for a thorough ADA check, you have to perform a functional testing with users. Our team of programmers are here to help if you're looking for assistance in reviewing your website's accessibility!
3. Your website is not mobile-optimized (responsive)
Smartphones aren't going away anytime soon. In fact, many people are spending more and more time online using their smartphones.
As a result, businesses need a website that works great on every device. The solution we recommend is called a responsive website. A responsive website is a website that is easy-to-use on desktops, tablets, and smartphones because the content of the site automatically adjusts to fit on large and small screens. Creating a website that is "responsive" is a standard part of the website design process at Mannix Marketing.
4. The bounce rate is sky high
Your website's bounce rate (which you can find in your Google Analytics reports) is the percentage of visitors who land on your website and then leave without looking at any other pages on the site.
A bounce rate between 40-50% is generally considered a decent bounce rate, as this indicates that 50-60% of the people who land on your website are sticking around and diving deeper into the site. The criteria for determining a what is a "good" bounce rate include a number of factors (for example, your home page versus a blog post), and one of our goals when redesigning your website is to help decrease the bounce rate.
5. You're not getting enough inquiries or calls
Have you noticed your phones have been ringing less? Are you seeing a decrease in sales, inquiries, or form submissions from your website?
Even if your website is getting a lot of traffic, if you're not seeing a steady increase in leads or sales then your website may have a problem converting visitors to leads, guests, or customers. As part of the website redesign process, our goal is to help improve conversions on your website.
Not tracking conversions from your website? That's a problem in and of itself. All of Mannix Marketing's websites are built with conversion tracking in mind, so you can track exactly how many website leads you're getting and where they're coming from.
6. Your brand has outgrown the existing design
Has your company gone through a rebranding since your last website redesign? Did you get a new logo or color palette?
Your website sends a clear message about your brand identity and personality to potential customers. Make sure your brand's identity isn't being "stolen" by a bad (or simply outdated) design.
7. Simple website edits are getting too expensive
The days of needing a degree in programming or advanced HTML skills just so you could add a new page to your website are long gone. Content Management Systems are making it easier for just about anyone to manage a website and add new pages, text copy, and photos on their website.
At Mannix Marketing, we build websites for businesses on WordPress Content Management System, which lets business owners, marketers, and other staff inside the company quickly and easily add new pages, photos, text copy, and videos to the website.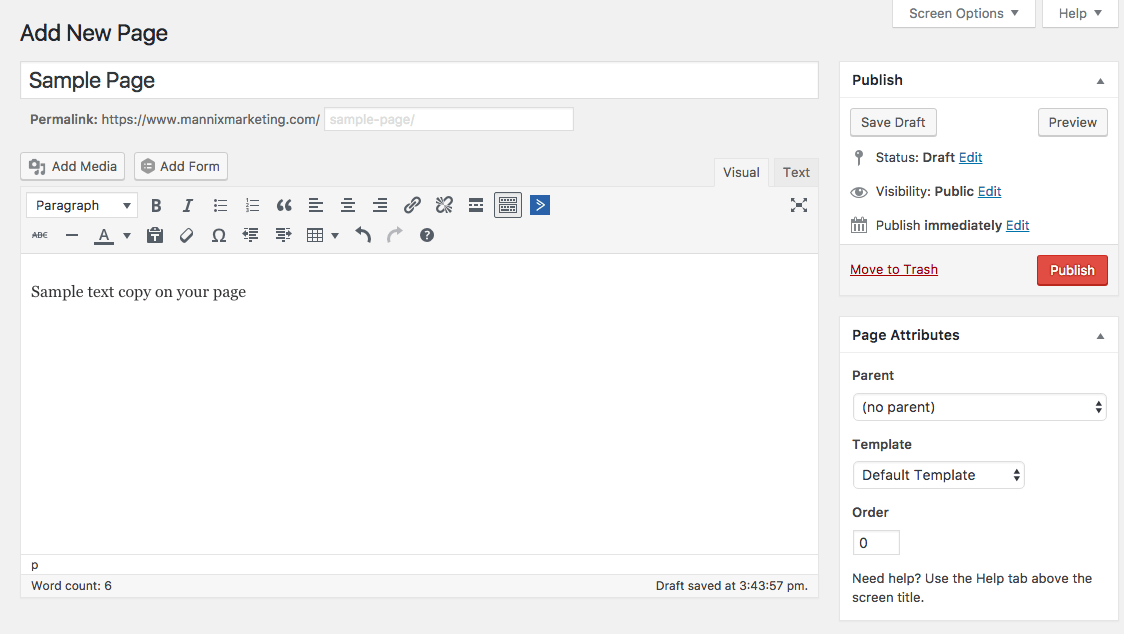 8. You're not getting found in Google search results
Yikes! This is a big one. If your website isn't ranking near the top of the organic (unpaid) search results for important keywords that your potential customers are typing-in to find your products or services online then you could be missing out on traffic, leads, and possibly even sales.
There's a lot that goes into performing Search Engine Optimization (SEO), but even the fundamental components of SEO on your website can cause a noticeable shift in your rankings in the search engines and help bring more searchers to your site.
9. It's been 5+ years since your last website redesign
For most businesses, we typically recommend a website redesign every 4-6 years. Web design trends come and go, but many profound, long-lasting developments can take place over the course of just a few years.
For example, home page "sliders" (a.k.a. slideshows) were once all the rage. Then, companies discovered that loading a series of big images on the webpage could lead to slower website load speeds and have a negative impact on user-experience. Not surprisingly, this led many companies to search for alternatives to website sliders (slideshows).
Book Your Website Redesign Consult Today!
Did your website fall under one of the categories above? If that's the case, then it's time you schedule a website redesign consult with our Digital Marketing Strategist, Chris Archibee. Book a call with Chris to get the conversation started!
Editor's note: This content was originally published in 2017 but has been updated as of October 2020.