As reported by Search Engine Watch, Google will no longer be showing ads on the right hand side of its search engine results pages or SERPs for desktop searches. In other words, this means that from this point forward, Google Ads will only appear at the top and bottom of the SERPs for desktop searches worldwide. In this article we'll look at why Google might be making this change and explore what this could mean for businesses and for search engine marketing.
Google Removes Ads from Right Side of SERPs
This change reportedly began on Friday, February 19, and will be finalized by Monday, February 22. The images below show the SERP before and after the removal of ads from the right side for the search "health insurance ny." At first glance, we can see that these two results pages look very different.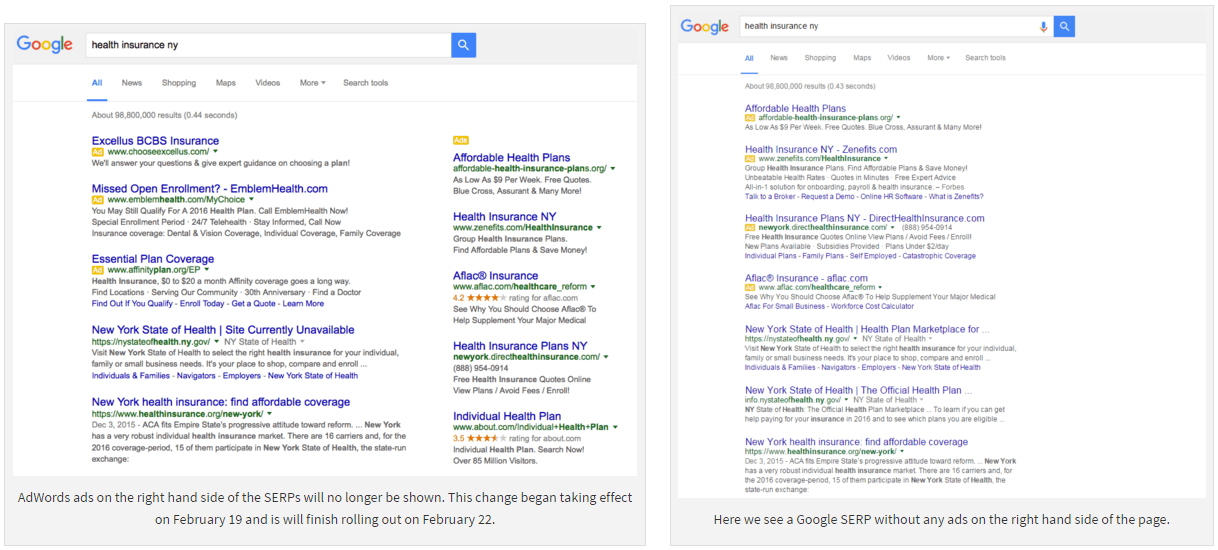 If you're wondering why Google is making this change to its search results, you're not alone. The Media Image, one of the first sources to break the news, reports that the reason for this change may be because "Google has determined the average click-through-rate for Right Hand Side Ads is poor across verticals, and the expected CPC inflation from this major change is projected to more profitable in the long run."
So What Does This Mean For Search Engine Marketing?
According to multiple sources, regular Google users may not even notice that much of a difference in search results. The right side of SERPs will still be occupied by Product Listing Ads (or PLAs) as well as Knowledge Graph Boxes.
Even though many regular Google users may not notice this change, it will undoubtedly have effects on advertisers and businesses alike.
What businesses need to know is that this change could cause organic search result space to become more competitive, thereby making it increasingly precious. In other words, now more than ever, SEO will need to play an even bigger role in businesses' digital marketing efforts as a means to effectively drive traffic and leads to to their websites.
Digital marketers and paid search advertisers, on the other hand, need to be prepared for this change to cause an increase in average cost-per-clicks (or CPCs). This is due to the fact that without ads on the right hand side of the SERPs, the competition for top ad positions will increase significantly. For businesses, it's important to know that increases in CPCs could result in the need to increase the daily budget of your Ads campaigns.
Are You Prepared For 2016?
With Google's recent changes to the SERPs, creating and executing an effective SEO and digital marketing strategy will play an even more significant role in ensuring your business' success as 2016 continues on. Since 1996, Mannix Marketing has been helping businesses get found online. With years of experience in the industry, our team is ready to help you design and implement an effective SEO and digital marketing strategy to help you succeed in 2016.
If you're a business owner or marketer and have questions about how this new change could affect your business, contact our digital marketing strategists today.