The idea behind linking your Google Analytics account to your Ads account is that it helps you analyze where people who click on your ads go once they reach your website. This information is useful because it can assist you in improving your ads and your website.
Let's get started!
The first step is to make sure that you are an Administrator of the Analytics account you want to link to Ads. You can find out if you are an Administrator by logging in to your Analytics Account, Clicking Admin in the top right corner. If you are an Administrator, it will note it as seen in this image. If you are not an Administrator, you will not be able to complete these steps.

Once you determine that you are an Administrator, log in to your Ads Account. Click on the Tools & Analysis Tab at the top of the page. From there, click on Analytics.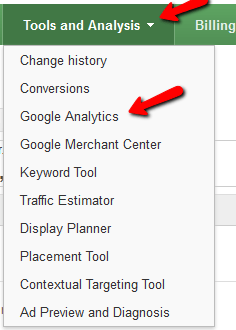 Next, click the Admin button in the upper right corner in the grey bar. This will bring you to an Account Administration Page. Here you will click the name of the account that you want to link. Next click the Data Sources tab.

Stay within the Google Ads Tab and then click Link Accounts. A pop up box will appear with two tasks …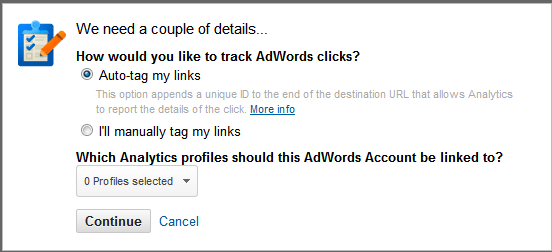 You'll need to determine how you would like Ads to track your clicks. The default setting is set for an Auto-tag. If you choose the Manual tag option, you will need to append your links yourself by adding tags to your destination URL's. This unique information attached to your Ads allows Analytics to determine which Campaign and Ad your traffic came from. Secondly, you'll need to choose the Analytic profile from the drop down. After you have finished, click Continue.
If you see the green Success button, you have successfully linked your accounts. Congratulation! The more information you can gather about your traffic and traffic sources, the better you can shape your marketing campaign.
Should you need assistance with Google Ads or Google Analytics, please give Mannix Marketing a call! We are Ads Certified Company and offer consulting packages as well as monthly maintenance programs. If you encounter a problem while trying to link your Google Analytics to Ads, please leave a comment so we can help.