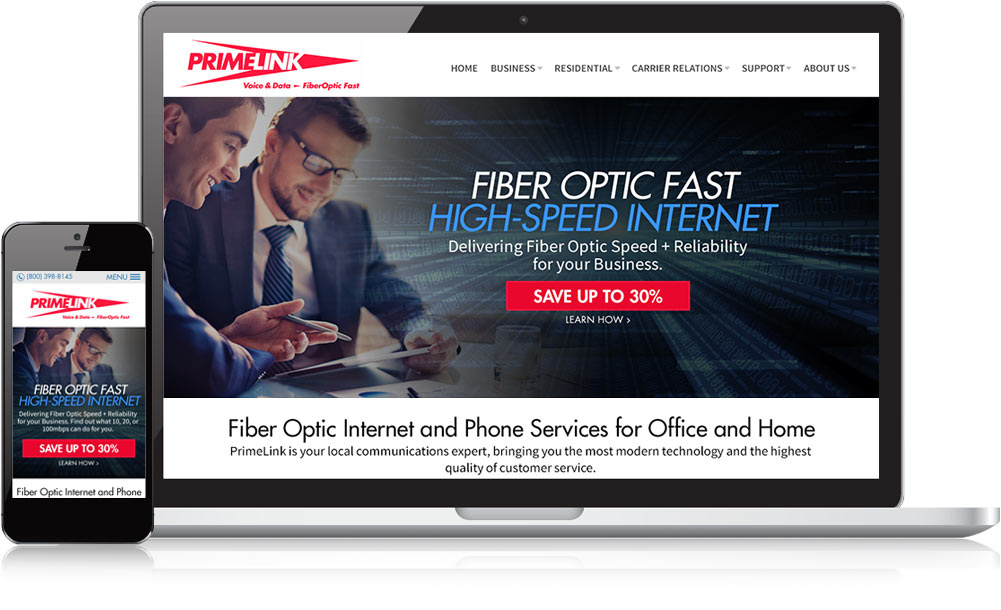 Leads Dramatically Increased When Voice and Data Services Business Launched New Website
PrimeLink provides voice and data services to business and residential customers throughout the North Country of upstate New York. They needed a professional website to reflect their modern solutions, appeal to business and residential audiences, and make it easier for potential customers to learn more about PrimeLink's solutions.
The Results
14% Increase in Organic Search Traffic
80% Increase in Mobile Visits
23% Increase in Pages/Session
Redesign Creates Instant Impact with More Leads due to Improved Messaging and Site Optimization
The redesigned website uses bold colors and engaging photos to create a professional, innovative, and personal feel.
Throughout the site, we incorporated images that speak to PrimeLink's target audiences: business and residential customers. As the primary target for the website is business, the opening message focuses on business. With a secondary audience of residential customers, the site immediately draws attention to the secondary markets with a subtle white arrow to draw the eye to the secondary goal.
The color red is strategically used to draw attention to most important calls-to-action
Custom layouts and unique icons help PrimeLink streamline the display of information and allow them to present their small business packages, broadband for business, fiber optic high-speed internet, and other services in a visually appealing manner.
PrimeLink has greater control over their website when it comes to adding and editing pages, publishing news about the company, updating photos on the website, and more.
We are amazed at how many inquiries we're getting from the new website! We knew that we would get more, but we did not expect to get this many more! The inquiries kept increasing and we're getting more requests.
Vicki A. Marking, Marketing Manager | PrimeLink